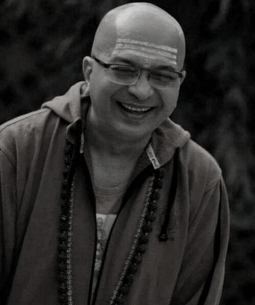 Swami Taponidhi Saraswati was initiated into Dasnami Sannyasa tradition by his Guru Swami Niranjanananda Saraswati, the Spiritual Head and Paramcharya of Bihar School of Yoga, in January 2004.
– Certificate course and TTC in Yoga from Ghantali Mitra Mandal, Thane Mumbai in 1999
– First in Mumbai University in 2001 on completion of
'Diploma in Yogic Studies"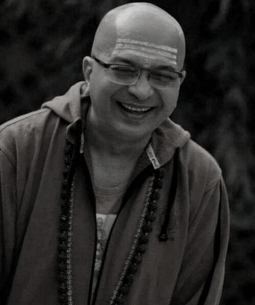 – "Master of Science in Applied Yogic Sciences" from Bihar Yoga Bharati the first Yoga University, in 2003

After living for 15 years under the guidance of his Guru in Bihar School of Yoga, Munger, Bihar – Swamiji is now propogating and promoting the traditional goal of yoga ie to internalize the awareness and know the self through Asanas, Pranayama, Pratyahara, Dharana and ARACE (Attention/Alertness, Relaxation, Awareness, Concentration, Evolution)
He is a parivrajak (wandering) sannyasin and is freely spreading the message of yoga with his vast teaching experience, intuitively simplifiying the subtle and powerful techniques of yoga to improve the quality of the lives of the participants.
Swamiji has introduced Yoga Nidras with Tibetan Singing Bowls to enhance the experience of relaxation and awareness. He's given open interviews onYoga in June 2016 on " All India Radio" Pune division. He has conducted Yoga retreats titled " Yoga Begins with Pratyahara" at various centers in India and Nepal. He conducts advanced retreats of Chakra Balance with the
combination of Kalaripayattu, Singing Bowls and Yoga at Kalarigram, Auroville; as well as Intensive Yoga Sadhana Retreats with focus on Chakras with Tibetan Singing Bowls in Pokhara, Nepal. He has been a guest speaker at the "2019 Varkala International Yoga Festival" and covered sessions on "Mantra Meditations" as well as " Subtle Practices", Satsang on "Yoga Today"" following with kirtans, Havan and a talk on "Introduction to Vedanta". He was invited by "Mahidol University, Bangkok, " in March 2019 as a yoga faculty to address students of " Diploma in Yoga" on the subject
of " Application of Yoga and Vedanta, Samkhya Darshan" followed by practical sessions of Asanas, Pranayama and Yoga Nidra.
Swamiji was invited by Korea Organization for Yoga Certification, Busan, South Korea to conduct workshops on "Chakra Balance and Meditations with Singing Bowls " at Seoul, Jeju Islands, Busan and Ulsan. Since 2017, every year, after Anantchaturdashi, Swamiji conducts Yoga Shibira for all residents of Nashik, at two different locations. Around 350+ Nashik residents participate in these camps. He has also conducted yoga shibirs over five days at Sri Aurobindo Society, Puducherry, and at Unity pavillion, Auroville.