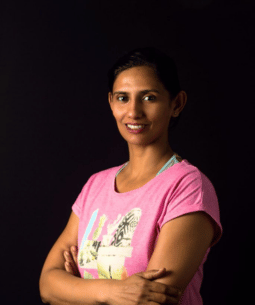 During an agitated and confused time in her life, she glimpsed in asana practice the possibility of refuge. As the practice became consistent over the years, that refuge has gone to open something deeper inside her. Yoga became the therapy session she spent with herself,
the mat became her world creating a space to reclaim the mind-body connection that the difficult phase of her life had severed.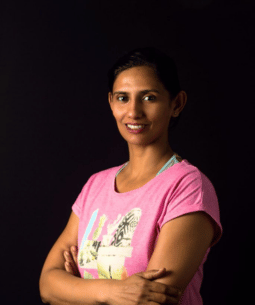 With qualifications having nothing to do with yoga, Shilpi, who holds a BE (Computer Engineering) and an MBA, found the next natural transition to train to teach yoga. She completed her 200 Hr Teacher Training under the guidance of Regeesh and Mrinali at Aayana Yoga. The seeds of this desire to share this practice have sprouted, taken root, and now gradually developing baby shoots in her teaching journey.
The first time she walked through Aayana's door was at a time of deep transition in her life. She was struck with a sense of warmth and belonging, like she was "home". She came back for class the following week and has been hooked ever since. She continued to practice because of her friendly and caring teachers Regeesh, Vinay and Mrinali. From being a practitioner, to offering to pitch-in with back-office support, labeling herself the "woman-friday" at Aayana, to a yoga teacher now – from a computer engineer to a yoga warrior – the journey has been life changing. It's her pleasure to offer support in any form needed for the day-to-day running of the studio. Aayana has become her second home, her sanctuary. As a support staff and teacher, it is her pleasure to offer this experience to others and support Regeesh's vision to make Aayana as a community bonding over yoga. She is grateful for all that is offered, enjoyed and shared within these walls and looks forward to welcoming all into this home we call Aayana.
She believes creativity is not about compartmentalising or remaining in a neatly labelled box. With interests in all things to do with art, craft, handmade, homemade, go-green, recycle-reuse-refuse, veganism, healthy eating, baking, minimalism, zero waste, animal compassion – the list goes on – she is one busy yogi, welcome to her chaos! Yoga remains her anchor to this essence, her steady ship amidst seas of change.
Even though the category reads 'teacher', she believes she will always be a student attending classes to fine tune her practice and find her teaching style true to the the saying 'you can't pour from an empty cup'. She loves the experience that comes with seeing people experience the goodness that yoga brings on the mat. Who needs yoga? Honestly, we all do. If you can breathe, you can do yoga! Every last one of us can benefit from building strength.